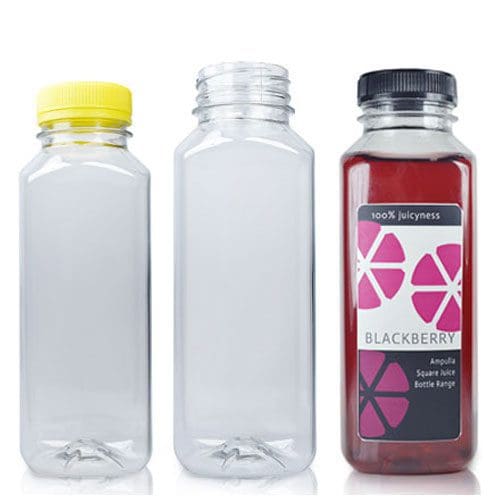 Square Plastic Juice Bottles
Show Filters
Fantastic Value For Money
We're always on the lookout for new and exciting packaging – and our square plastic juice bottles are no exception to the rule! They're available in 3 sizes (and our most popular sizes at that): 250ml, 330ml and 500ml.
Our square juice bottles are made from high quality PET plastic. PET is a glossy, recyclable, lightweight, shatterproof material. These bottles are sure to enhance the appearance of your c0lourful juices. It's ideal if you're planning to put your new product straight into the retail market. The straight sides make adding your own branded labels and stickers easy, too!
You'll find that our square juice bottles are also perfect for a range of non-juice products. This includes detox breakfast smoothies, milkshakes, kids' fruit drinks, flavoured waters and more!
Choice Of Cap Colours
Our bottles caps are available in: green, blue, silver, red, orange, yellow, green, black, white or natural. Fill your bottles with your chosen product, then simply screw the cap on by hand. This will create a tamper evident seal which gives extra reassurance to both you and your customers.
PET Plastic Facts
BPA (Bisphenol A) is a chemical that is sometimes used in the manufacture of some plastics such as food and drink can linings, but it is not used in PET plastic food and drink containers (nor those made from HDPE, LDPE or polypropylene). All of our plastic juice bottles are BPA free.
As with all Ampulla products, we recommend that you perform a product test before committing to large orders.