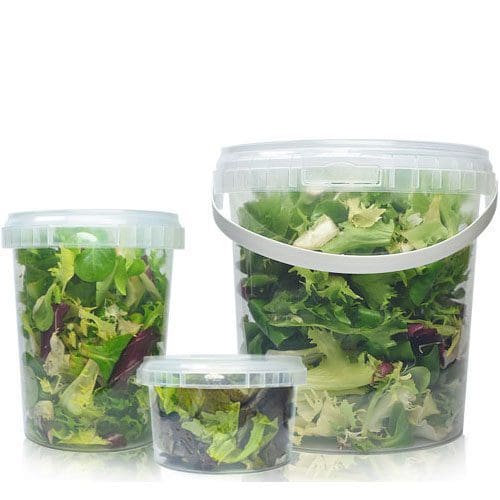 Plastic Food Pots
Show Filters
Plastic Food Pots
Wholesale Food Packaging Supplier
If you're in the food, catering or take-away business, then our transparent plastic food pots and buckets are a must-have!
Sizes And Colours Available
Our disposable food pots are available in a range of sizes, so you can supply your products in different capacities, allowing you to reach wider markets. Choose from clear or natural coloured pots, depending on the level of visibility you want to provide for your product.
Tamper Evident Closures
Give your customers greater confidence in your product with our tamper evident lids. Each pot comes complete with a press down, tamper evident lid (unless otherwise stated). Once the lid has been attached to the pot, the seal has to then be broken before it can be opened. This ensures your product arrives at your chosen destination in tact and without contamination. These food tubs are perfect for the food industry, as they are food-safe and comply with trading standards.
Suitable Uses
Our pots are made from quality polypropylene (PP) plastic, making them suitable for both freezing and microwaving. These tubs are perfect for catering and take-away businesses alike. They're a popular choice for packaging and promoting dips, sauces, soups, popcorn, ice cream, microwave meals, confectionery, curries and ready meals. Alternatively, use them to store essentials for your hobby – they're perfect for storing fishing bait, craft materials and arts supplies.
Our polypropylene food pots are recycling triangle number 5. This means they're made from a safe plastic that's widely accepted by recycling programs.
As with all Ampulla products, we recommend that you perform a product test before committing to large orders.