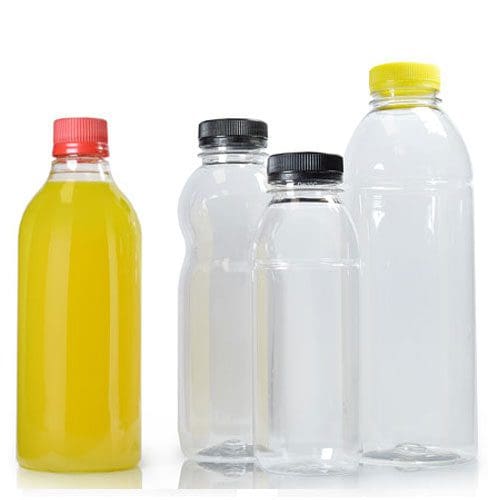 Plastic Juice Bottles
Show Filters
Plastic Juice Bottles
Empty Juice Bottles
Our plastic juice bottles are made from high quality polyethylene terephthalate (PET) which is a tough, yet lightweight, recyclable plastic. PET plastic juice bottles offer crystal clear clarity, which makes them a great packaging choice for showing off your colourful fruit juice and soft drinks. These plastic bottles are ideal for filling with fruit juices, health shakes, cordials, detox blends and any other soft drinks. Please check the descriptions to see if your chosen bottle is suitable for carbonated drinks.
Some of our customers use these as reusable juice bottles, as they can be easily carried and they are lightweight. They are perfect for popping into your gym bag instead of buying expensive bottled water time and time again. Simply refill, apply the cap and off you go.
Each plastic juice bottle comes with a choice of adding a tamper evident coloured cap. Our juice bottles are available in single and wholesale prices, to suit your individual requirements. This is ideal if you're looking to branch out into the drinks industry or if you're just dipping your toe in the market.
Juice Bottles With Lids
Our PET Plastic Juice Bottles are available in the following sizes: 250ml, 330ml, 500ml, 750ml, 1 litre and 2 litre. This wide range of bottle capacities means that you can easily sell the same product in many different sizes to target different groups in the market, such as families and individuals.
Plastic Juice Bottles With Lids
Our bottle caps are available in blue, yellow, black, silver, red, orange, green, white or natural. Once the bottles are filled with your chosen product, the caps can then simply be screwed on by hand to create a tamper evident seal. This gives extra reassurance to both you and your customers about the integrity of the final product.
Please Note
Here at Ampulla, we always advise our customers to do their own product checks before committing to larger orders. All of our plastic juices bottles are BPA free.
As with all Ampulla products, we recommend that you perform a product test before committing to large orders.