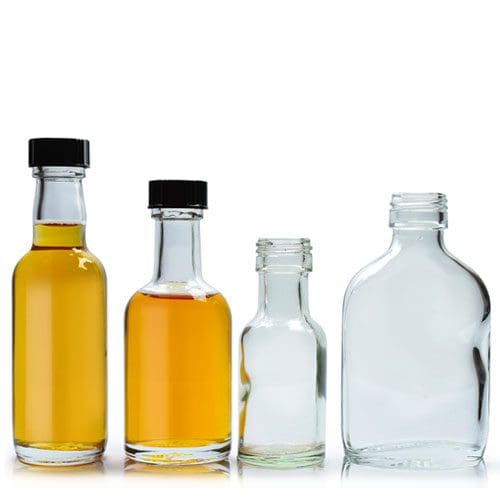 Plastic And Glass Miniature Bottles
Show Filters
Wholesale Miniature Bottles Packaging Supplier
Our handy range of plastic and glass miniature bottles are perfect for storing alcoholic beverages, novelty gifts, chilli sauces and food extracts. These cute small glass bottles are also excellent for amazing point of sale presentation.
Whether you're looking for a quirky way to promote a new men's grooming product or you have a special occasion coming up that you need to bring a gift to, these mini bottles are perfect. Fill with your favourite tipple or create a gift your guests can keep to remember your special occasion.
Product ideas
Our glass miniature bottles are suitable for spirits, liqueurs, aromatherapy oils, fragrances, food extracts, flavourings, colourings, bath salts or even a novelty message in a bottle! Add your own personalised labels to flavoured vodkas, shots or whiskeys to create quick and easy wedding favours.
Styles Available
These miniature bottles come in a range of styles, so you can choose the type that best matches your brand. Whether you're looking for a tall vodka-style bottle, or a wider, more traditional flask bottle, we've got you covered. Buy with or without caps to either provide secure storage of your product, or pair with your own lids.
There's no minimum order on Ampulla products, so you can buy as many as you need. This saves you money and prevents waste – it's a win-win! If you're looking for standard size wine or spirit bottles, take a look at our range here.
As with all Ampulla products, we recommend that you perform a product test before committing to large orders.