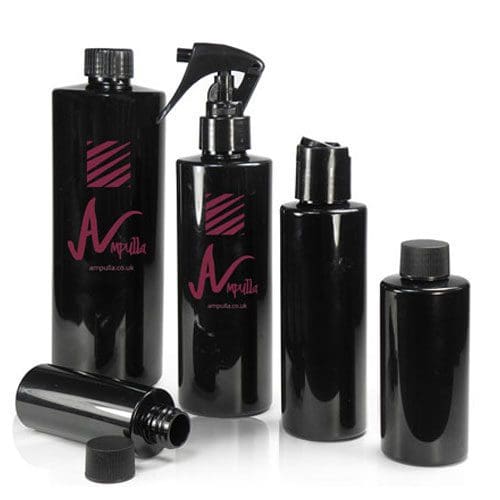 PET Black Plastic Bottles
Show Filters
Black Plastic Bottles
Our glossy, PET Black Plastic Bottles are elegant in design and are sure to get your products noticed instantly. They are made from high quality black PET plastic, resulting in a sleek, lightweight, robust bottle. Black PET Bottles are ideal for many different applications, thanks to the eye-catching glossy black exterior. Pair these bottles with white branding and you've got yourself a winning formula!
Black Plastic Pump Bottles
Our PET black plastic bottles are compatible with a wide range of caps, including standard screw caps (for pouring liquids), atomisers and trigger sprays (for a fine mist application). You can also pair these bottles with disc top caps, flip top caps and lotion pumps. These cap styles enable you to control dispensing of lotions, gels and thick liquids. These caps come in black, white and silver varieties so that you can choose the colour that most closely matches your brand's colour scheme.
Black PET Bottles
Thanks to their compatibility with many different caps, our black plastic bottles are perfect for packaging many different types of products! We recommend filling these bottles with hair and beauty products, bath and shower lotions. They're also great for car care and cleaning products, men's toiletries and much more.
Looking for similar bottles in different colours? Take a look at our white, clear and cobalt blue PET ranges.
As with all Ampulla products, we recommend that you perform a product test before committing to large orders.