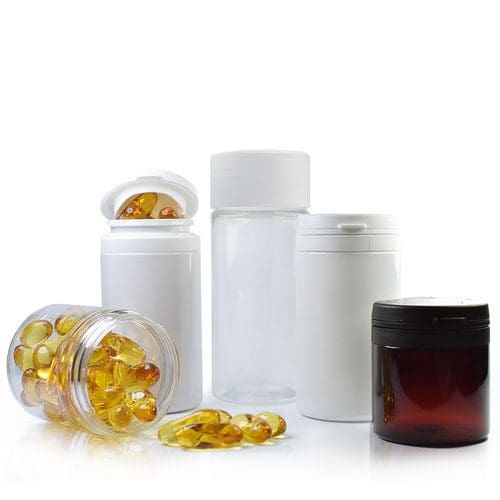 Plastic Pill Jars
Show Filters
Wholesale Pharmaceutical Packaging Supplier
Our wide neck clear, white and amber plastic pill jars are made from robust, high quality PET plastic. They offer you optimal product visibility and are a lighter alternative to glass, which also reduces the possibility of breakage!
All of our jars come with white or black hinged, tamper evident caps. The tamper evident feature reassures your end customers that their product has not been contaminated or tampered with before it reaches them. These clear plastic jars are ideal for use in health shops and for storing pharmaceutical products.
Sizes Available
Our pill jars come with quality hinged closures and are available in the following sizes: 50ml, 75ml, 100ml, 150ml and 250ml. If you're looking for UV filtration, choose from our selection of amber tinted PET pill jars.
Suitable Applications
You'll find these pill containers are versatile enough for storing a variety of different products. This includes vitamins, supplements, oil capsules, granules, tablets, pills and many other herbal remedies and medicines.
You can purchase as many (or as few!) of these items as you need. This reduces waste and increases value for you. We'll apply discounts automatically when you buy in bulk!
You can also purchase glass pill jars here, if glass is your preferred packaging option. We also offer Securitainer pharmaceutical packaging, should you be looking for a highly secure style of pharmaceutical jar.
As with all Ampulla products, we recommend that you perform a product test before committing to large orders.