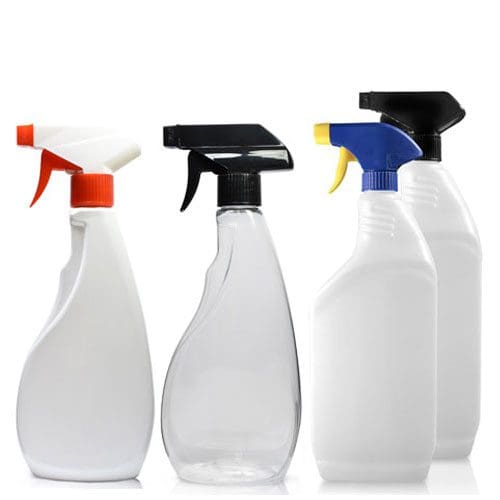 Plastic Spray Bottles
Show Filters
Plastic Spray Bottles
Our plastic spray bottles are suitable for a wide range of products which require a fine mist application. These bottles are ideal for packaging cleaning products such as window cleaner, bathroom cleaner and antibacterial surface cleaners. They're also great for household products such as pet care spritzes, gardening sprays, air fresheners and linen sprays. Alternatively, just use them as water spray bottles for plants or ironing water.
Clear Plastic Spray Bottles
Our spray bottles are made from either PET or HDPE plastic. PET gives a clear or glossy finish, while HDPE has a semi-transparent or opaque matte finish. The bottles come in either clear, natural (semi-transparent) or white plastic varieties.
Plastic Trigger Bottles
All our plastic spray bottles come with a choice of trigger head sprays. These caps come in a range of colours, so you can select the option that best suits your brand. They have the option to switch between a stream or spray style application, as well as an on/off option.
Plastic Atomiser Bottles
These bottles are available in 3 sizes: 500ml, 750ml and 1 litre. This means you can offer your product in a variety of sizes for your customers' convenience!
As with all our products here at Ampulla, there is no minimum order quantity when you purchase these plastic spray bottles. You can order as few or as many as you like! Buy in bulk to get great discounts
As with all Ampulla products, we recommend that you perform a product test before committing to large orders.