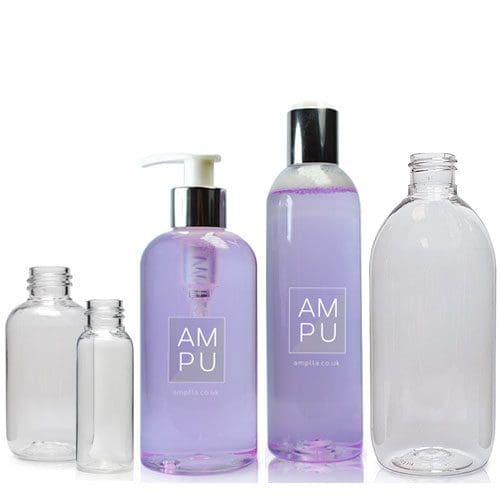 Clear PET Plastic Bottles
Show Filters
PET Bottles For Sale
Our high quality, clear PET plastic bottles are fully recyclable, lightweight and food grade approved. PET is a plastic that has a glass-like look, which is perfect for enhancing a wide range of products. The clear facade of the glass allows your customers to see the contents – so it's great for packaging attractive liquids or lotions. This range includes the popular Boston Bottles and easy-grip 1 litre bottles.
 Clear PET Bottles
Our clear PET plastic bottles are suitable for a range of products: detergents, household chemicals, lubricating oils, toiletries, health and beauty products, confectionery, edible oils/sauces and more.
PET Plastic Bottles
Our small plastic bottles are available to buy with a large choice of closures. This includes standard screw caps, flip top caps, child resistant (CR) caps, disc top caps, spout caps, mini trigger sprays, lotion pumps and atomiser sprays.
Clear Plastic Bottles With Lids
Our small plastic bottles are available in the following sizes: 30ml, 50ml, 60ml, 100ml, 150ml, 250ml, 400ml, 500ml and 1 litre. This wide range of sizes allows you to sell your products in different capacities using the same range of bottles. This means you can keep the same look and feel across all your products.
Recycled PET Bottles
All of our PET plastic bottles are recyclable. They're accepted by 92% of local councils in the UK.
PET Plastic
Bisphenol A (BPA) is NOT used in our PET plastic bottles.
Please note that, due to the packing methods used by some of our suppliers, these bottles may have slight marks on the sides.
As with all Ampulla products, we recommend that you perform a product test before committing to large orders.