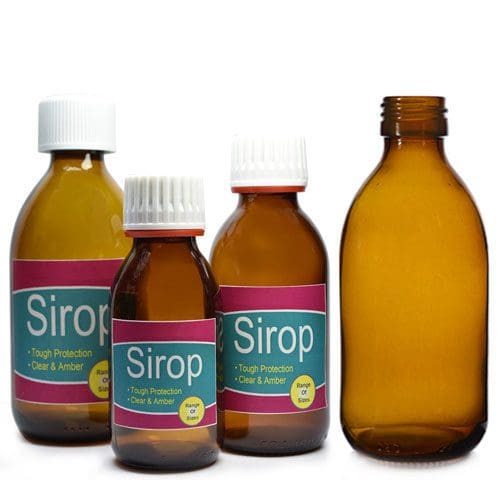 Amber Glass Medicine Bottles
Show Filters
Amber Glass Medicine Bottles
Our Amber Glass Medicine Bottles (also known as Sirop bottles) are a highly popular product in the pharmaceutical industry. They're made using tough, amber-tinted glass, which acts as a filter for potentially damaging UV light rays. This handy feature makes amber glass medicine bottles ideal for packaging light sensitive products.
As well as medicines, our Amber Sirop Bottles are suitable for packaging and dispensing many types of products. Use them to store herbal remedies, lotions, cleansers, fragrances and more.
Amber Medicine Bottles
Our medicine bottles are available in the following sizes: 30ml, 60ml, 100ml, 125ml, 150ml, 200ml, 250ml, 300ml, 500ml and 1 litre. Offer your product in a range of capacities to suit your customer base.
Amber Pharmacy Bottles
Our Amber Sirop Bottles are compatible with many different closures, so they're highly versatile and suitable for dispensing many types of products. Choose from screw caps (including EPE-lined aluminium caps, polycone caps, child proof medilock caps, and tamper evident caps), lotion pumps (available in black, white and black/silver) and atomiser spray caps (in black, white and black/silver).
Amber Glass Bottles are also compatible with our plastic syringes. These are available in 1ml, 5ml and 10ml sizes, and are perfect for dispensing children's medicines. See our range of plastic syringes here.
We also offer a clear glass medicine bottle range, if you're looking for a transparent bottle that allows your customers to see your product clearly. Shop the full medicine bottle collection.
As with all Ampulla products, we recommend that you perform product testing to check for compatibility, before you commit to large orders.