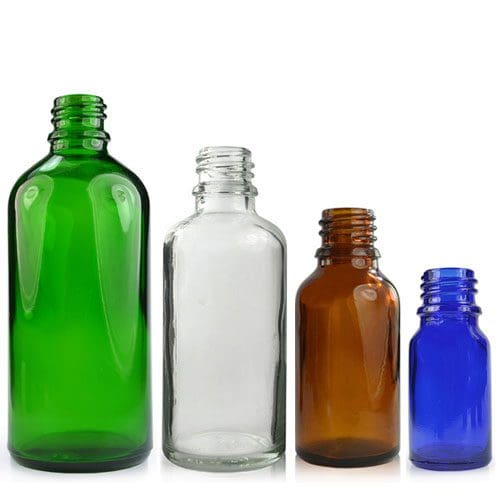 Glass Dropper Bottles
Show Filters
Glass Dropper Bottles Available In Clear, Amber, Green, Black & Blue Glass
Ampulla is one of the UK's leading suppliers of glass dropper bottles. Our massive range of dropper bottles have so many possible uses, thanks to their compatibility with many different caps. They are widely used within the beauty and aromatherapy industries for packaging oils and perfumes. They're also suitable for chemical solutions, pharmaceuticals, herbal remedies, beard oils, hair serums, beauty oils, food extracts, inks and dyes.
All of our bottles are manufactured to the highest standards using strong, high-quality glass. You will also always find the best price as we offer large discounts as standard on all bulk orders.
Sizes Available
Our dropper bottles are small by nature, but are still available in a wide variety of sizes, including 2.5ml, 5ml, 10ml, 15ml, 30ml, 50ml and 100ml.
Colours Available
These small dropper bottles come in a choice of clear, amber, green and blue-tinted glass. The amber dropper bottles have the added bonus of being able to filter harmful UV rays, which makes them a great option for packaging light-sensitive products such as medicines.
Browse our clear dropper bottles, green dropper bottles, amber dropper bottles and blue dropper bottles categories.
Compatible Caps
Our bottles are all available to buy without a cap, but these versatile bottles are also compatible with a wide range of caps! These caps include: screw caps, tamper evident dropper and pipette caps, child-resistant dropper caps, atomiser sprays, nasal sprays and lotion pumps. NB: The aluminium screw cap does not come with a dropper insert.
As with all Ampulla products, we recommend that you perform a product test before committing to large orders.