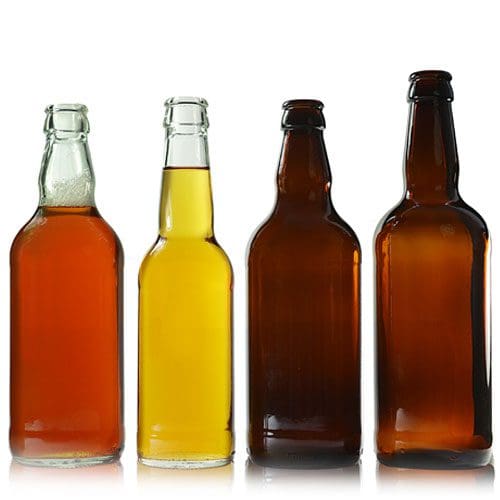 Glass Beer Bottles & Cider Bottles
Show Filters
Shop For G
lass Beer Bottles
Our range of glass beer bottles are perfect for large scale breweries, microbreweries and home brew. All our beer bottles are available wholesale, or with no minimum order – so they're great for brewers of all sizes. Looking for glass homebrew bottles? You're sure to find the perfect bottle for your craft beers right here at Ampulla.
Empty Bottles For Beer
Our home brew beer bottles are available in a choice of green (330ml), amber (330ml and 500ml) and clear (330ml and 500ml) glass. Each glass beer bottle comes complete with a 26mm gold crown cap if required. You'll need a capping tool to apply these caps to the bottles when your beer's brewed.
Glass Home Brew Bottles
Our amber-tinted glass bottles act as a filter that prevents lots of UV light entering the bottle and spoiling your homebrew. This handy feature is great for use with light-sensitive drinks. You'll find that our clear glass beer and cider bottles are absolutely perfect for packaging lagers, ales, wines, ciders and even champagnes.
Buy Beer Bottles Wholesale Or In Single Quantities
We offer all our products with no minimum order, meaning you can order as many homebrew beer bottles as you need – whether that's 1 or 1000! Alternatively, buy our empty glass beer bottles wholesale and take advantage of our fantastic discounts – giving you the best value for money.
Looking for bottles suitable for wine or spirits? Take a look at our range here.
As with all Ampulla products, we recommend that you perform a product test before committing to large orders.