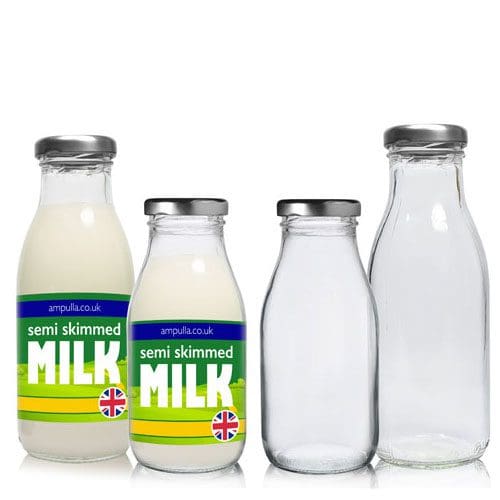 Glass Milk Bottles
Show Filters
Vintage-Look Glass Milk Bottles In A Range Of Sizes
Find the perfect bottle for milk, cream and milkshakes in our collection of quality glass milk bottles. Made from premium moulded glass, our bottles are ideal for storing your milk-based products in style. Available with compatible screw lids, you can keep your products fresh with our timeless vintage-look bottles.
Glass Milk Bottles With Lids
No matter which shape or size you select, your glass milk bottle is sure to help your product stand out from the rest. The clear glass offers a premium look, while showcasing the mouth-watering colours of your milks and shakes. Simply apply your product label to the bottle for personalisation and nutritional information.
Range Of Sizes To Choose From
From small milk bottles to larger designs, find the size you're looking for in our range. Select from sizes including 150ml, 250ml, 500ml and 1 litre. You can even mix and match across our ranges to offer your customers something new. Alternatively, get the same bottle in multiple sizes and maintain the look of your brand across your product lines. Pair with a metallic screw lid for a retro finish.
Buy In Bulk Or With No Minimum Order
There's no minimum order necessary, so you can order as many or as few of these milk bottles as you need. If you're looking to purchase them in wholesale quantities, we'll also automatically apply discounts to your order when you buy in bulk. Buy milk bottles online at Ampulla Packaging and save!
As with all Ampulla products, we recommend that you perform a product test before committing to large orders.