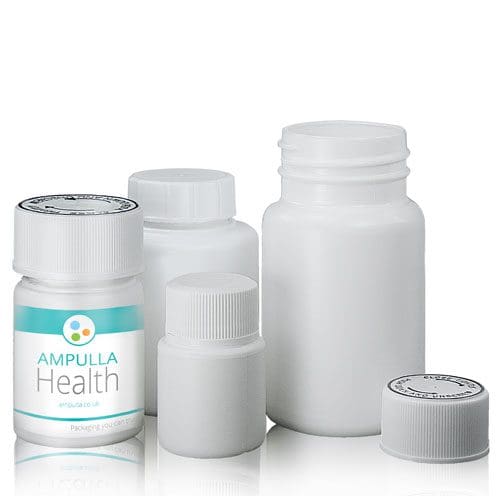 Pharmaceutical Containers
Show Filters
Plastic Pharmaceutical Containers
Our pharmaceutical containers are an industry favourite. Also known as Pharmapac containers, these plastic bottles are suitable for a range of pharmaceuticals, nutritional supplements, vitamins and herbal remedies. They are made from white HDPE plastic, making them a robust, yet lightweight packaging solution. They are also food grade approved and have excellent chemical and moisture resistance.
These small yet strong bottles offer the extra reassurance you'd expect for the storage of pharmaceutical and medical products. They are absolutely ideal for storing tablets, medicines, syrups, powders and chemicals. Each container has a smooth rounded surface, which you can apply labels to – it's essential for adding product information for your customers.
Pharmaceutical Bottles
Our pharmaceutical containers are available in the following sizes: 30ml, 60ml, 90ml, 150ml and 250ml, which all come with the option of adding child resistant or standard caps. There is no minimum order quantity, so you can order as many as (or as little) as you need!
If you like these plastic pharmaceutical containers, we also have them in glass varieties. Browse our glass pill jar range here. We also offer plastic amber-tinted pill jars, which have unique UV filtering properties. This makes them ideal for storing light-sensitive products.
You can purchase as many (or as few!) of these items as you need. This reduces waste and increases value for you. We'll apply discounts automatically when you buy in bulk!
As with all Ampulla products, we recommend that you perform a product test before committing to large orders.