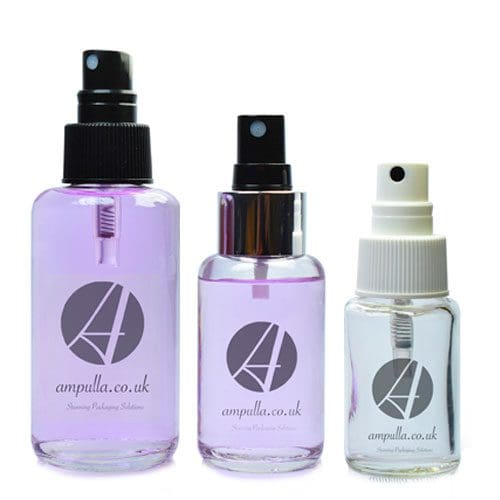 Cosmetic Glass Bottles
Show Filters
Glass Cosmetic Bottles
These Atlas Bottles are small cosmetic glass bottles with big possibilities! Manufactured from high quality clear glass, each small glass bottle comes with a range of different caps to choose from. They're strong and functional, yet stylish at the same time, making them suitable for packaging many types of health and beauty products. Whether you sell men's toiletries, aromatherapy solutions or luxury cosmetics, these little glass bottles are ideal.
Glass Cosmetic Packaging
Our small cosmetic bottles are available in the following 3 sizes: 30ml, 50ml and 100ml. This allows you to package the same product in 3 different sizes, targeting 3 different markets, without having to change the style of your bottles.
Cap Options
All of our Atlas Bottles are compatible with the following types of cap: aluminium screw cap, black screw cap, white screw cap, black trigger spray cap, white trigger spray cap, white lotion pump cap, white atomiser spray cap and black/silver atomiser spray cap.
Suitable Applications
These small glass bottles are suitable for many types of different cosmetic products. This includes aromatherapy oils, herbal remedies, hair sprays, body sprays, toiletries, pharmaceuticals, skin care lotions and more.
As an alternative, take a look at our plastic cosmetic packaging options. We offer all our products with no minimum order, so you can buy as many or as few as you need! Buy our glass cosmetic bottles wholesale for fantastic discounts.
As with all Ampulla products, we recommend that you perform a product test before committing to large orders.