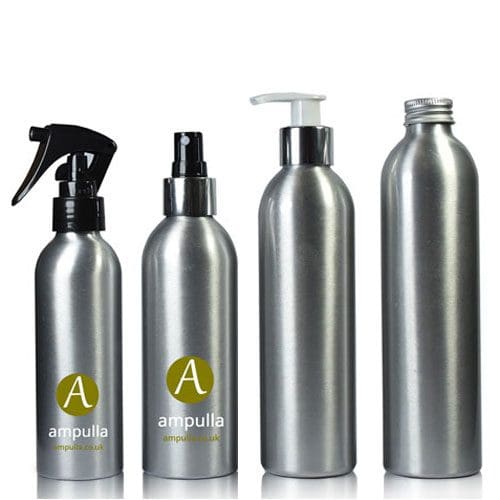 Wholesale Aluminium Bottles
Show Filters
Wholesale
Aluminium Bottles
All our wholesale aluminium bottles have an attractive brush-effect finish that offers a modern and stylish look for your products. The bottles are lined with epoxy/phenol formaldehyde (EPA) resin, ensuring that your products do not come into direct contact with the aluminium, which can alter the properties of certain products.
Our wholesale aluminium bottles are sold in boxes. Our pricing is the most competitive you will find in the UK. If you require larger quantities, please call our customer service team on 0161 367 1414. 
Our aluminium bottles are suitable for a wide range of products, including: creams, lotions, waxes, polishes, hair care products, household cleaning products, car care solutions and much more!
Aluminium Bottles For Sale
We have a wide range of sizes available; from as small as 30ml right up to 1 litre. Our bottles are available in the following sizes: 30ml, 50ml, 100ml, 125ml, 150ml, 200ml, 250ml, 300ml, 500ml and 1 litre.
Metal Bottles
Our aluminium bottles all come with a threaded neck, so you can switch up the closures you use with these bottles. Thanks to their compatibility with a wide variety of caps, these bottles are suitable for storing many different products. Looking to dispense your contents in a fine mist? Pair your bottle with a trigger spray or atomiser cap. If you need a controlled pour, our flip and disc top caps are perfect. Keeping things simple? Top your aluminium bottle with a simple plastic screw cap, or a matching aluminium cap. Just choose your closure depending how you wish your product to be dispensed!
As with all Ampulla products, we recommend that you perform a product test before committing to large orders.
Do you like the look of our aluminium range, but want to package a cream or wax based product? Check out our aluminium jars.