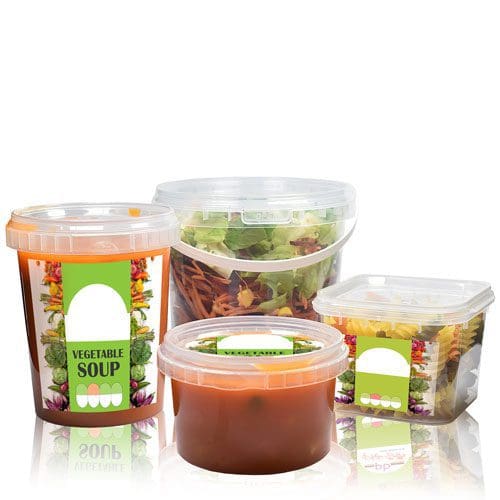 Food Packaging
Show Filters
Food Packaging
The food industry covers a wide array of customers and should be able to adapt to changing customer expectations. At Ampulla, we carry a wide range of Food Packaging to ensure that you not only meeting your customers needs, you exceed them.
We cater across all sections of the food industry to ensure that you don't need to worry about your packaging. Regardless if you business is a takeaway, a restaurant entering the online delivery market or a farm shop, you can order what you need when you need it!
Disposable Plastic Food Containers
Our disposable food containers are available in clear, black and green varieties, and come complete with press down lids that seal in freshness and protect against contamination. We also offer a range of clear trays for storing desserts, biscuits and sweets. Display the cute icing and decoration to your customers with ease!
These food containers are perfect for retailing food products in supermarkets, delis and cafes. These versatile containers would also be ideal for use by mobile catering businesses, thanks to their lightweight nature and ease of transportation. All of our plastic food containers are food grade approved. They come with press-down lids to seal in your food's freshness.
Disposable Salad Bowls
Our Disposable Salad Bowls are perfect for packaging takeaway lunches – including salads, rice and pasta – for busy workers to grab and go! These bowls are available in 3 different colours: clear, back and green. They're made from lightweight, recyclable PET plastic for ease of transportation and low delivery costs. Each bowl has a hinged, press down lid that keeps the food inside fresh. Essential for fresh food deliveries!
Plastic Food Pots
Our pots are made from quality polypropylene (PP) plastic, making them suitable for both freezing and microwaving. These tubs are perfect for catering and take-away businesses alike. They're a popular choice for packaging and promoting dips, sauces, soups, popcorn, ice cream, microwave meals, confectionery, curries and ready meals.
As with all Ampulla products, we recommend that you perform a product test before committing to large orders.