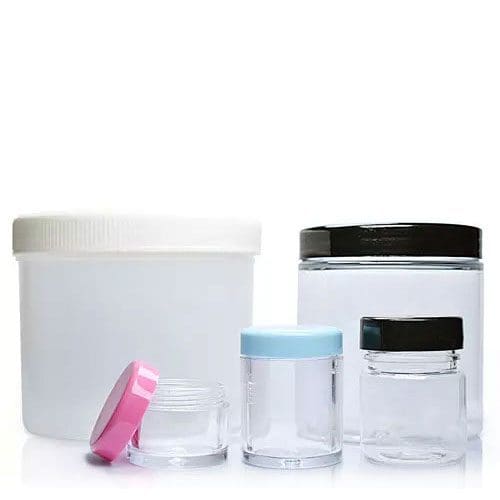 Plastic Jars With Screw Lids
Show Filters
Plastic Jars With Lids – No Minimum Order Necessary
We stock a large range of plastic jars with lids that are available in both clear and natural plastic (PET, PVC & HDPE). Our plastic jars are ideal for the storage, transportation and display of many different types of products, such as powders, paints, tablets, granules, cosmetic creams, lotions, beauty products and pharmaceuticals. Many of these jars are food and pharmaceutical grade – simply check the product information to see suitable uses for each jar.
Available Sizes & Colours
Our plastic jars with screw lids are available in the following sizes: 5ml, 6ml, 10ml, 15ml, 20ml, 25ml, 30ml, 50ml, 65ml, 100ml, 150ml, 225ml, 250ml, 285ml, 300ml and 500ml.
The majority of our plastic jars in this category are made from clear PET. However, we also offer some jars that are available in black PET and translucent HDPE varieties.
What To Use Them For
Our plastic jars with screw lids are multi-functional and suitable for packaging a wide range of products. For example, choose to package and promote cosmetics and toiletries, such as lip balms, eye creams, eye gels, bath and body products. Alternatively, you can use these classic jars to hold shoe polishes, car waxes, body creams, sugar scrubs, foods, granules, spices, capsules, powders and much more.
There's no minimum order required for any of our products, so you can purchase just as many jars as you need. If you buy in bulk, you'll automatically receive great discounts.
As with all Ampulla products, we recommend that you perform a product test before committing to large orders.