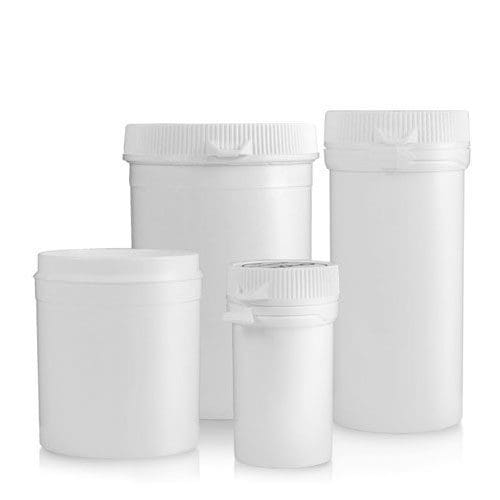 Securitainer Pharmaceutical Containers
Show Filters
Buy In Bulk And Save
Our white plastic Securitainer pharmaceutical containers are manufactured using high grade polypropylene (PP) plastic. They are cylindrical and have wide necks to make it simple for you to fill up the containers. This also makes it easier to dispense from them.
Securitainers have two sealing points between the cap and body of the container, which create an extremely effective seal. This seal is also ideal for containing moisture sensitive products. Simply fill with your product and push down the lid to create a tamper evident seal. This tamper proof seal gives your customers extra peace of mind and assurance in the integrity of their product.
These pharmaceutical plastic containers have many potential uses, including storing medicines, pharmaceuticals, herbal remedies, craft materials, product samples and more.
Sizes Available
Our Securitainer pharmaceutical containers are available in sizes including: 27ml, 105ml, 135ml, 260ml, 327ml and 650ml. This allows you to supply your product to your customers in various capacities, so they can select the option that best suits their needs.
You can purchase as many (or as few!) of these items as you need. This reduces waste and increases value for you. We'll apply discounts to your order automatically when you buy in bulk!
If you like these plastic pharmaceutical containers, we also have them in glass varieties. Browse our glass pill jar range here. You can also purchase Pharmapac containers and plastic amber-tinted pill jars, which have unique UV filtering properties. This makes them ideal for storing light-sensitive products.
As with all Ampulla products, we recommend that you perform a product test before committing to large orders.