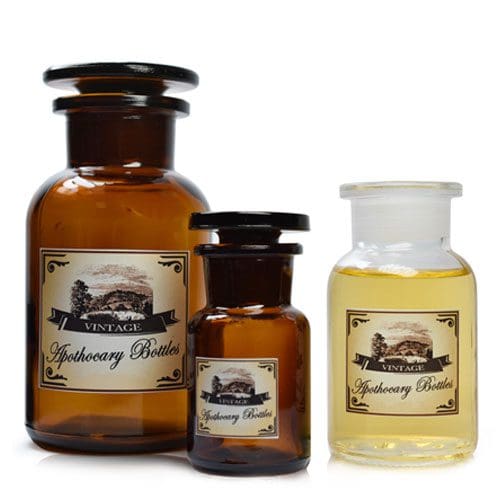 Glass Apothecary Bottles
Show Filters
Buy Vintage Style Bottles
Shop our collection of vintage-style glass apothecary bottles. These strong, quality glass bottles come complete with snug fitting glass stoppers to complete the look. They're perfect for recreating the style of the past, as well as giving a unique, rustic, high quality look to your modern day products. Our glass apothecary bottles have a wide neck to make filling and dispensing easier filling.
Our apothecary bottles are popular for rustic flower displays, confectionery, window displays, television and theatre sets, photo shoots, craft projects, aromatherapy oils, herbal remedies, bath oils, fragrance diffusers, high end cosmetics and more. These bottles are also ideal for laboratory use.
Sizes & Colours Available
This range of bottles comes in 50ml, 100ml and 250ml sizes. They come in a choice of 2 colours: clear glass or amber tinted glass. The amber apothecary bottles are useful for packaging light-sensitive products such as pharmaceuticals, as the amber tint acts as a UV light filter to protect the product within from potentially damaging UV rays.
Cap Options
Our glass apothecary bottles come complete with a matching glass stopper, which are wrapped with string to give them a traditional look.
No Minimum Order Required
As with all of our products, there are no minimum order requirements on our apothecary bottles. Simply order the number of bottles that you require – whether it's 1 bottle or 1,000!
As with all Ampulla products, we recommend that you perform a product test before committing to large orders.