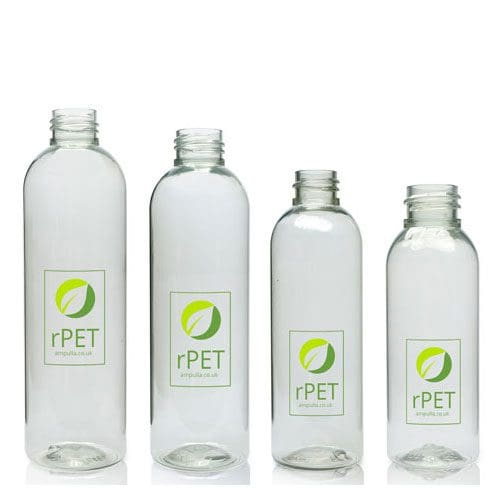 rPET Plastic Bottles
Show Filters
Eco-Friendly Packaging From Ampulla
Our recycled plastic bottles are designed to help you and your customers become more environmentally-friendly. These rPET bottles offer all the benefits of regular PET. Ranging in sizes from 50ml to 250ml, you can find the ideal rPET bottle for your needs from Ampulla Packaging.
Recycled Plastic Bottles
PET is a lightweight, flexible, strong plastic that has many different applications. It's suitable for storing a whole host of health, beauty and cosmetic products. The smooth sides make branding your bottle super easy. Plus, you can easily give your customers important product information.
Recycled Plastic Water Bottles
Our rPET range consists of bottles that are made from recycled materials only – so it's a great way to reduce the carbon footprint of any business. All our PET bottles are fully recyclable, too – meaning less waste, and more sustainable supply chains.
Compatible Caps
We offer many different caps that fit securely on our recycled PET bottles – so dispensing is easy for your end users. Choose from lotion pump dispensers, atomiser sprays, screw-on lids, flip-top caps and many others.
Recycled Packaging Uses
These recycled plastic bottles have a large range of applications. They're suitable for many different household products, including detergents, household chemicals, lubricating oils, toiletries, health and beauty products, confectionery, edible oils/sauces and more.
We offer all our products with no minimum order, so you can buy exactly as many as you need! You can also buy in bulk to get great discounts.
As with all Ampulla products, we recommend that you perform a product test before committing to large orders.