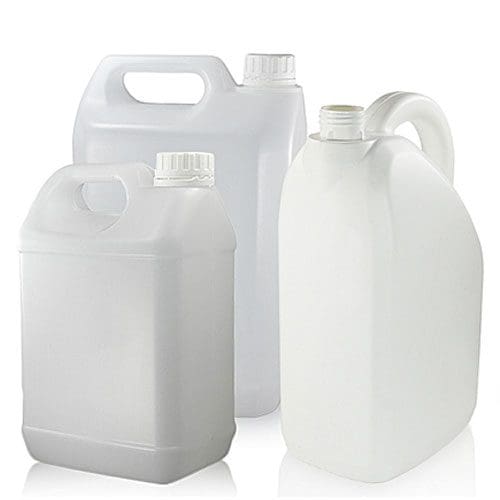 Plastic Jerry Cans
Show Filters
Plastic Jerry Cans For Sale
We stock a vast range of plastic jerry cans and blow-moulded rigid containers. These containers are manufactured using only top quality HDPE (high-density polyethylene) plastic. All our plastic jerry cans come complete with screw top or tamper evident caps. Alternatively, we also offer a choice of cap tap or pump dispensers available on certain products.
Plastic Fuel Cans
We have a massive range of sizes available which start from 500ml and includes 1 litre, 2.5 litre and 5 litre capacities. These plastic jerry cans are also available in a variety of colours including white, natural, silver, blue and red.
Plastic Water Jerry Can
These plastic jerrycans can carry and store a wide range of products. They're suitable for chemicals, fluids, waters, detergents and other water-based products. They are perfect for taking on camping trips or other outdoor activities. Use them to bulk store clean water, food stuffs and much more.
The small 500ml and 1 litre jerry cans are ideal for storing bulk quantities of sauces and dressings to transport to the caterers and restaurants that require them. They are also great for packaging cleaning products and gardening supplies. This includes weed killers and car shampoos, which are often bought by the end users in larger quantities.
There's no minimum order on any of our petrol cans, so you can just order the amount you need. You can also buy in bulk to get great discounts!
As with all Ampulla products, we recommend that you perform a product test before committing to large orders.