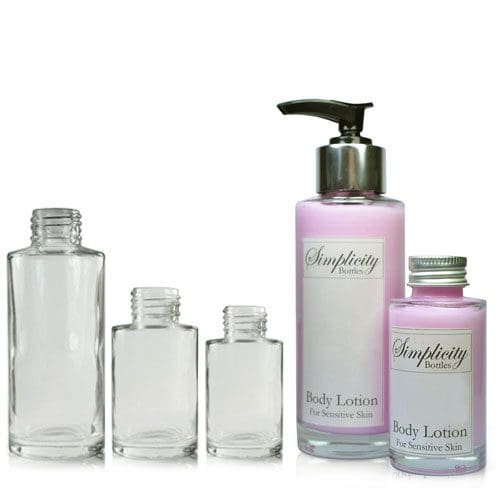 Glass Fragrance & Lotion Bottles
Show Filters
Wholesale Glass Lotion Bottle Supplier
This range of strong, slim, clear glass fragrance bottles and lotion bottles offer a stylish, quality appearance for a wide range of products. These include fragrances and lotions, as well as aftershaves, hair serums, aromatherapy oils, bath oils, dyes, food colouring and more! These strong, slim clear glass bottles offer a stylish, quality appearance for a wide range of products, proving that, when it comes to packaging, less can be more. These Simplicity bottles provide professional packaging solutions at an affordable price – simple!
Cap Options
The Simplicity glass fragrance bottles are compatible with many types of closure, including screw caps, atomiser sprays, trigger sprays and lotion pumps. They are also available in certain sizes with a diffuser cap, which transforms the bottle into a reed diffuser!
Sizes Available
These glass fragrance bottles are available in the following sizes: 30ml, 50ml, 100ml, 150ml, 200ml and 250ml. By selecting a range of different size options, you can offer a uniform look across your whole product range. It's a great way to improve your brand recognition!
Product Ideas
Thanks to their compatibility with a number of different caps, these glass fragrance bottles are very versatile and can be used for a variety of different products. Our matte finish silver diffuser cap is the perfect pairing for our Simplicity Bottles. Simply add your favourite scented oils and reeds to create a fabulous reed diffuser!
As with all Ampulla products, we recommend that you perform a product test before committing to large orders.