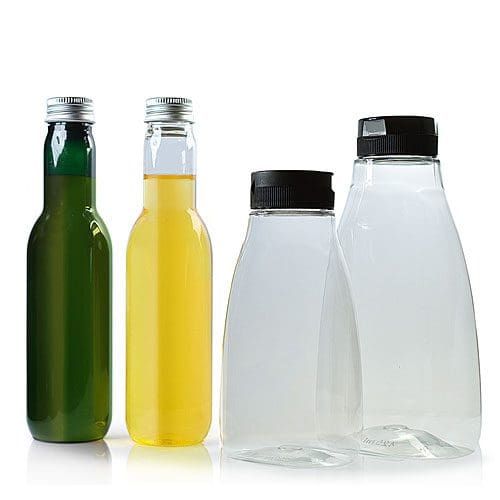 Plastic Sauce Bottles
Show Filters
Plastic Sauce Bottles
Our range of plastic sauce bottles are made from PET (polyethylene terephthalate) plastic, which is a sturdy, clear material that offers a lighter alternative to glass and are less fragile. This makes them perfect for packaging marinades, chilli sauces, infused oils and other products to sell to the general public at supermarkets, corner shops, open markets and farm shops.
PET plastic is glass-like in appearance and pleasing to the eye when you see them on the shelves. They are crystal clear so that the product within can be seen clearly and are lightweight, which helps to reduces postage and transport costs if you are shipping your products. PET is also fully recyclable.
As well as sauces, these plastic sauce bottles are ideal for packaging salad dressings, cooking marinades, olive oils, flavoured oils and syrups.
Plastic Squeeze Bottles For Sauces
Our dress, oil and sauce bottles are available in a wide range of sizes, including: 150ml, 180ml, 187ml, 250ml, 500ml and 1 litre. Some of our bottles are squeezable, in order to make dispensing your sauces easier.
These plastic sauce bottles are compatible with a variety of caps, including our screw top caps, pouring caps and flip top caps, meaning that you can choose to pour or squeeze your sauces and dressings from the bottles depending on your preference.
Plastic Ketchup Bottles
Here at Ampulla, we always advise our customers to do their own product checks before committing to larger orders.
As with all Ampulla products, we recommend that you perform a product test before committing to large orders.