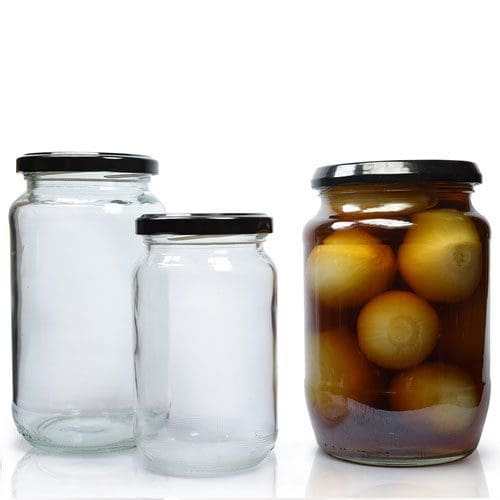 Glass Preserving Jars
Show Filters
Buy As Many Glass Preserving Jars As You Need
These Glass Preserving Jars are an excellent choice for making home preserves. Whether you need a jar for your prized pickles, champion chutneys or fabulous fruity jam creations, we're sure to have the right glass jar preserving jars to suit your needs.
Our preserving jars come in a range of sizes and shapes. This includes our Verrine jars, which are perfect for packaging cooking sauces, spicy dips and pickled chutneys, and our Bonta jars, which ooze style and elegance. They're great for packaging a wide range of foods, including hot curry pastes, spicy chilli dips, cooking sauces, pickled onions, marinated vegetables and more.
Lid Options
All our preserving jars are made from high quality clear glass and come complete with a twist-off lid of your choosing. Many of our twist off lids are available in a choice of colours. They all of our lids include a rubber lining, which creates an airtight seal to ensure your products stay fresher for longer. These rubber linings are also vinegar and acid proof, so they're perfect for pickling! Our jars and lids ensure that your creations not only taste good, but look good too.
You can also buy our glass preserving jars without lids if you prefer.
Suitable For A Range Of Products
Our preserving jars are suitable for jams, marmalades, chutneys, honey, and pickles. They're also ideal for store cupboard goods, such as herbs and spices, pasta sauces, confectionery and more.
Sizes Available
Our preserving jars are available in sizes ranging between 190ml and half a gallon.
Can't find the right jar here? Take a look below.
Orcio Jars
Honey Jars
Chutney Jars
Hexagonal Jars
As with all Ampulla products, we recommend that you perform a product test before committing to large orders.