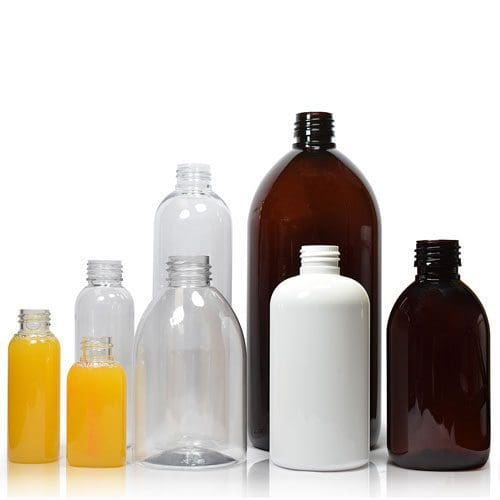 PET Bottles
Show Filters
Plastic PET Bottles
Our Plastic PET Bottles are ideal for packaging your range of juices and flavoured waters. PET (polyethylene terephthalate) is recognised around the globe as a safe packaging material for drinks, pharmaceuticals and cosmetics, which is why it is one of the most commonly used plastics in the world. It's lightweight, flexible and tough. Plus, it's fully recyclable, helping your business cut its carbon footprint.
Plastic Drinking Bottles
Our PET Juice Bottles are available in a range of sizes, from a small 100ml capacity up to a large, family-sized 2 litre capacity, so that you can target your juices to a number of market segments. Small bottles of juice for meal deal customers? Check. Big bottles of juice for families? Check!
Empty Plastic Bottles
Our PET Bottles come in a variety of attractive shapes. Choose from options including curvy, slim and square, so you can differentiate your brand from the competition on the shelves. Each bottle is compatible with our screw top caps. These caps come in a choice of bright colours to help your juices pop! We've got all the colours of the rainbow – blue, red, yellow, orange, green and more!
Please check the description of your chosen PET bottle to see if it is suitable for carbonated drinks. Our plastic juice bottles are ideal for packaging fruit juices, health shakes, cordials, detox blends and other soft drinks.
Please note that, due to the packing methods used by some of our suppliers, these bottles may have slight marks on the sides.
As with all Ampulla products, we recommend that you perform a product test before committing to large orders.