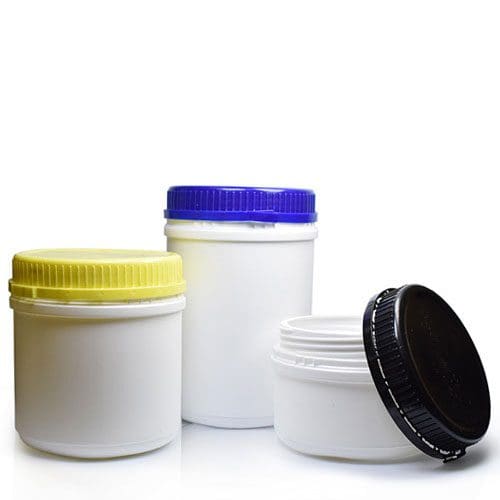 UN Round Cans
Show Filters
UN Approved Containers At Wholesale Prices
Our range of SDO plastic UN Round Cans are made from high-density polyethylene (HDPE) and comply with strict UN regulations. Each container comes with a screw-on tamper-evident lid and airtight inner seal, which adds extra security.
Our UN approved containers all have wide necks and are suitable for packaging a multitude of different products, including high-value pharmaceuticals, powdered chemicals, toiletries, food and much more. Please note that these plastic containers are NOT watertight.
Sizes Available
Our plastic UN approved containers are available in the following sizes: 250ml, 500ml, 650ml, 780ml, 1000ml, 1300ml, 1600ml and 2000ml.
Lid Options
All of our wide neck plastic containers come with a tamper-evident screw-on lid and inner airtight seal. These lids are available for each size in the colour of your choice. Choose from the following options: white, red, yellow, blue or black. Simply select your preferred colour from the dropdown menu on the page for your chosen product.
Suitable Applications
Our plastic UN approved containers are great for packaging and storing semi-solids from the chemical and pharmaceutical industries, such as powders and capsules. The airtight nature of these plastic containers minimises your product's exposure to contaminants, preserving them for longer.
We offer these containers with no minimum order, so you can buy as many as you need. We'll automatically apply discounts to your order when you buy in bulk!
As with all Ampulla products, we recommend that you perform a product test before committing to large orders.