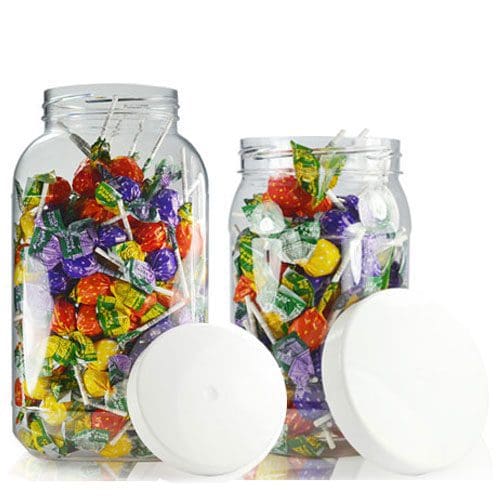 Large Plastic Sweet Jars
Show Filters
Large Plastic Sweet Jars
No Minimum Order Necessary
Our Large Plastic Sweet Jars are made from high quality PET or PVC plastic. These materials are perfect for the storage, preservation and display of confectionery and all other sweet treats. All of our large plastic sweet jars have a wide neck that makes filling and dispensing your treats easy. They all come with screw top lids for simple secure storage and easy access to the contents. The only decision left is which sweets you're going to store in these cute jars! And how you're going to keep them out of reach of the kids…
Sizes Available
Our range of sweet jars are available in a wide ranges of sizes, including: 450ml, 710ml, 730ml, 1 litre, 2 litre and 4.4 litre. The larger volumes are ideal for vending sweets and biscuits at weddings or other events, while the smaller sizes are great for home sweetie storage.
Suitable For A Wide Range Of Products
Our large plastic sweet jars are ideal for packaging a wide variety of products, including sweets (obviously), chocolates, cookies, biscuits… the choice is yours! They're also great for multi-purpose kitchen storage – fill with flour, sugar and other store cupboard or baking goods. You can even use the smaller plastic jars to make your own personalised wedding or birthday party favours – just tie a ribbon round the wide neck. Both kids and grown-ups are sure to love them!
As with all Ampulla products, we recommend that you perform a product test before committing to large orders.