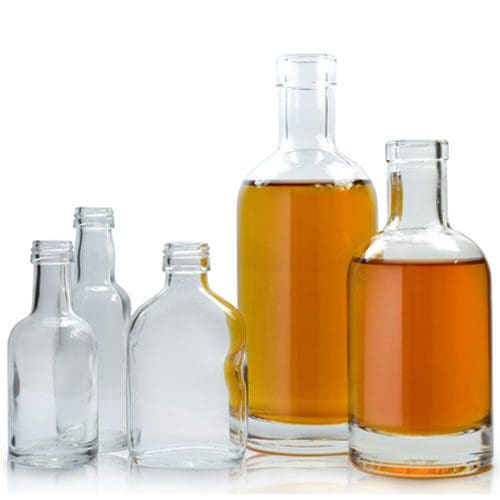 Glass Spirit Bottles & Wine Bottles
Show Filters
UK's Largest Online Packaging Supplier
We stock a wide range of quality glass wine bottles and spirit bottles with compatible closures. Whether you're looking for bottles for homemade wine, sloe gin, speciality lemonades, we're sure to have the perfect bottle for you. We also stock bottles that are ideal for use on mass production lines that offer fabulous shelf appeal.
Glass Spirit Bottles
Our glass spirit bottles range consists of our Mountain Bottles and Polo Bottles. Mountain Bottles are tall and slim, with a thin neck, and come with a choice of colourful screw caps to pick from. These caps are available in 6 colours: black, gold, red, green, blue and white. Polo Bottles are thick-set and have a heavy base which gives them an expensive, sturdy feel. They're ideal for filling with posh whiskey, rum, or vodka, and come complete with rustic cork stopper caps.
Glass Wine Bottles
Our glass wine bottles are available in both small and large sizes (187ml and 750ml) so you can market your wines towards different target markets. They come in both clear and green tinted glass, with our lubricated silicone cork being compatible with our 750ml bottles to create a rustic look.
Both Wholesale & Small Quantities Available
If you require larger order quantities of wine bottles or spirit bottles, please call a member of our sales team on 0161 367 1414 for an individual quote to suit your needs.
As with all Ampulla products, we recommend that you perform a product test before committing to large orders.