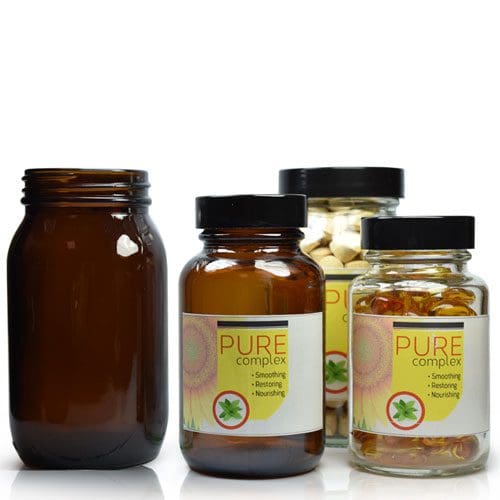 Glass Pill Jars
Show Filters
Wholesale Pharmapac Supplier
Our glass pill jars are commonly used to package tablets, capsules and powders. These trusted, traditionally-styled medical containers are available in a choice of clear or amber-tinted glass. The amber-tinted glass pill jars have the added benefit of being able to filter UV light rays, which is a particularly useful feature for light sensitive products, such as medicines, that could be harmed by UV exposure.
We offer all our pill jars with no minimum order, so you can purchase as many or as few as you need.
Sizes Available
Our pill jars are available in the following sizes: 30ml, 60ml, 100ml, 120ml, 175ml, 200ml, 250ml and 500ml. This wide range of sizes means that you can package the same product in many different size options, without having to change the style of your packaging. It's ideal for maintaining brand recognition across your entire product range.
Cap Options
This glass jar is compatible with both black and white plastic screw caps, as well as aluminium screw caps. This allows you to choose the cap that best matches your branding or product style. Many of the caps we offer have liners within them. These liners seal the caps tightly around the jar neck to create an airtight seal. This helps to make your products last longer.
We also offer plastic pharmapac containers. Shop our range of Plastic Pill Jars to find out more.
As with all Ampulla products, we recommend that you perform a product test before committing to large orders.