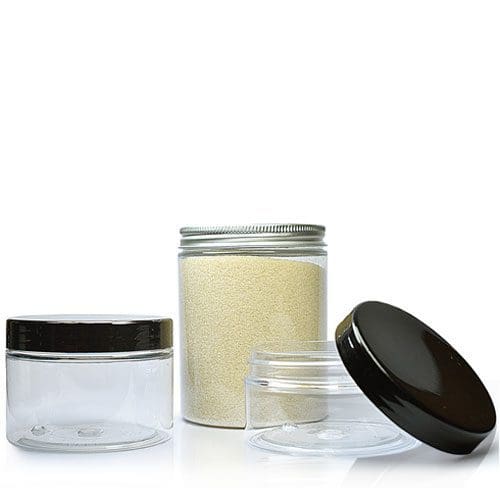 Clear Plastic PET Jars
Show Filters
Clear Plastic Jars With Lids
You'd be forgiven for thinking our Clear Plastic Jars are made of glass – the plastic quality is just that good! Get your products noticed instantly with our range of wide-necked, clear PET plastic jars. PET plastic is fully recyclable, lightweight and food grade approved. These slim, stylish plastic jars are the perfect choice of packaging for a wide variety of products.
Clear Plastic Screw Top Containers
Our PET jars are available in sizes ranging from 25ml up to 400ml. This wide range of sizes makes it easy for you to market different sizes of your products without having to change the style of your packaging! It's a great way to open up your brand to new markets, whether that's backpackers or bulk buyers.
How you can use our Clear Plastic Jars
From the simple squat style 50ml jar, up to the tall, slim 400ml jar; our range of jars are perfect for powdered cosmetics, eye creams, hair gels, face and body lotions, craft materials, foods and more. These plastic PET jars are available with a choice of coloured cap to compliment your product – black, white or brushed aluminium. You're sure to find the right look for your brand.
They also make perfect slime containers!
We offer all our products with no minimum order, so you can buy exactly as many as you need! You can also buy in bulk to get great discounts.
Looking for a bottle rather than a jar? Take a look at our range of PET bottles here.
As with all Ampulla products, we recommend that you perform a product test before committing to large orders.