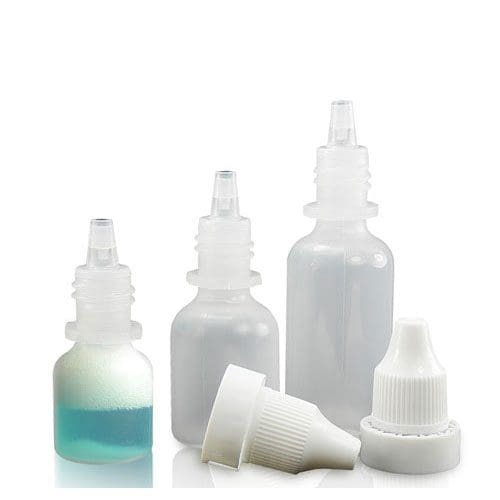 Plastic Squeezable Dropper Bottles
Show Filters
Buy In Bulk And Save
With the exception of our 10ml PET dropper bottle, our small plastic squeezable dropper bottles are made from low-density polyethylene (LDPE). This squeezy style of dropper bottle makes it easy to dispense the liquid within. They're ideal for e-liquids!
Our natural-coloured dropper bottles are translucent, which enables the product fill level to be seen. Meanwhile, the opaque white bottles do not let any light through. Both LDPE and PET plastic bottles offer excellent moisture protection and impact resistance.
Dropper Bottle Caps
All of our dropper bottles come with tamper evident screw caps, apart from our 10ml clear dropper bottle which comes with a child resistant screw cap. These caps all have a dropper insert to restrict the flow of liquid, so that you can dispense precise amounts with each squeeze. If your product doesn't require precise dispensing, it's possible to use these bottles without the dropper insert to create a wider neck opening and faster flow.
Sizes Available
Our plastic squeezable dropper bottles are available in 3 sizes: 5ml, 10ml and 15ml.
Suitable For Many Different Types Of Products
Our plastic dropper bottles are absolutely ideal for the health and pharmaceutical industries. They're great for storing herbal remedies, e-liquids, glitters, glues and craft products.
We offer all our products with no minimum order, so you can buy exactly as many as you need! You can also buy in bulk to get great discounts.
As with all Ampulla products, we recommend that you perform a product test before committing to large orders.