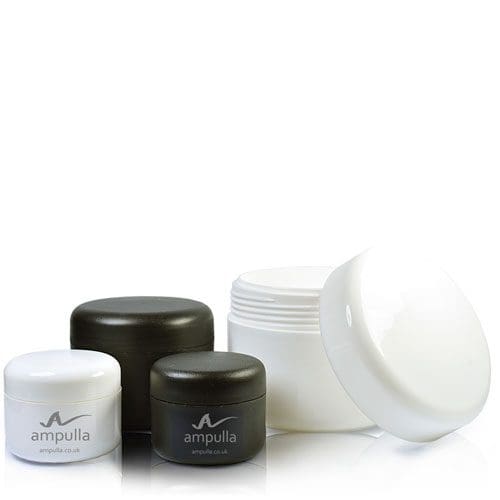 Arese Double Walled Cosmetic Jars
Show Filters
Plastic Cosmetic Containers
Make your cosmetics stand out from the crowd with our Arese double walled cosmetic jars! Our range of Arese plastic cosmetic jars come in various sizes and in a choice of black, white or natural colours. Made from polypropylene plastic, these double walled jars have that extra layer of product protection.
Cosmetic Jars With Lids
The white colour option has a sleek, glossy finish. The black version comes in a frosted, matte design. The natural jar is also frosted, but offers a semi-transparent view of the product inside the jar. They are available in a multitude of sizes including: 5ml, 15ml, 30ml, 50ml and 100ml.
Plastic Cosmetic Jars
Our Arese Double Walled Cosmetic Jars all come with protective shives, which makes them ideal for packaging eye gels, lip balms, cuticle treatments, eye shadows and much more. They give a quality look and feel to face creams, lotions, body scrubs and butters, body glitters and moisturisers. The black Arese jars are a great choice for packaging ranges of high end, luxury cosmetic products, as they ooze a simple elegance that attracts customers at that end of the market.
These Arese plastic cosmetic jars are available to purchase with no minimum order. Simply buy as many or as few as you need. Less waste, more value!
You can also find transparent plastic jars for your lotions and creams if you'd like your customers to view the product within your jar.
Cosmetic Jars Wholesale
If you need cosmetic jars wholesale then look no further. We offer large discounts across our entire product range to ensure that you will always find the best value when shopping in bulk. Simply add your required amount to the basket and our website will provide you with the lowest price. 
As with all Ampulla products, we recommend that you perform a product test before committing to large orders.