Your business may be small, but that doesn't mean you should compromise on the look of your products. Take a look at these creative packaging designs for inspiration for your next stunning product line.
Stylish Juice & Smoothie Branding
These bottles, designed by Lyon & Lyon, are stylish yet simple. The clean white space and irregular label shapes combine to offer an eye-catching bottle in an array of colours. The aluminium cap elevates the bottle from standard supermarket fare to gourmet health food status.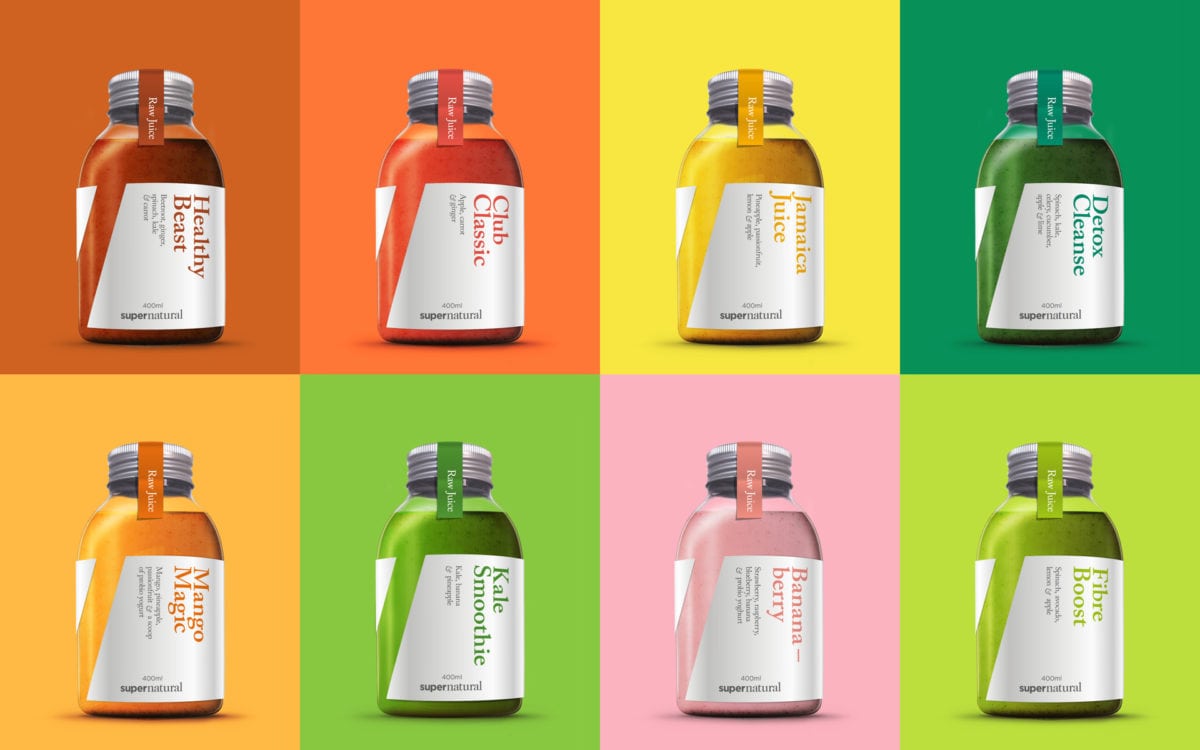 Image courtesy of Grits & Grids.
Top tip: Use an offbeat label shape to make your product stand out. You can also use labels as tamper-evident seals, if your lids don't have this functionality built in.
Jars For Homemade Jams & Preserves
These decorative jam jar labels are perfect for homemade preserves. If you're giving them away as gifts or wedding favours, be inspired by these cute labels. The rustic patterned cloth lid covers add an extra homely flourish to your jars.
Image courtesy of Whimsical Wonderland Weddings.
Top tip: Use a flat curved jar to make it really easy to apply your labels. This 125ml glass food jar is ideal.
Illustrated Beer Bottle Designs
These super fun beer bottles for Uruguayan brewery Birra Bizarra really tie the company name in with its branding. Designed by Mundial, each label has a cute circus character design to illustrate the various flavours.
Image courtesy of Oh Beautiful Beer.
Top tip: Illustrations can give your brand a really unique flavour. It's perfect for brands looking for a more premium creative packaging design.
Locally Designed Honey Jars
These adorable honey jars were designed by Michelle Rose Innes, a Welsh designer, for Welsh honey business Black Mountain Honey. The cute gold lid is perfect for honey, especially with the added honeycomb print.
Image courtesy of Rose Innes Designs.
Top tip: A local designer can add a really personal touch to your products, which in turn will resonate with your customers. Research local artists who can transform the look of your product.
Minimalist Japanese Beer Brand
The simplicity of these beer bottle labels are sure to attract attention. Although the bottle colour is the same, the contrasting white label and the complementary red label offer vastly different looks.
Image courtesy of Oh Beautiful Beer.
Top tip: Playing with colour can make a huge difference in your branding, especially if you favour a minimalist look to your labels. Try out different colours for denoting different product lines.
These creative packaging designs are perfect for small businesses looking to overhaul their brand identity. It's also important to source a base bottle or jar that works with your design. We offer a huge range of versatile packaging products that work well with lots of different packaging designs and branding. Take a look at our packaging picks below.
Shop Our Packaging Picks